Most of us aren't Astrologers, so the question that we, here at TwinkleInTime, get asked pretty frequently is, "how do we know that our Star Maps are accurate."
So to help answer that question we created an infographic that we think is helpful to explain how we know what the stars look like on any given night.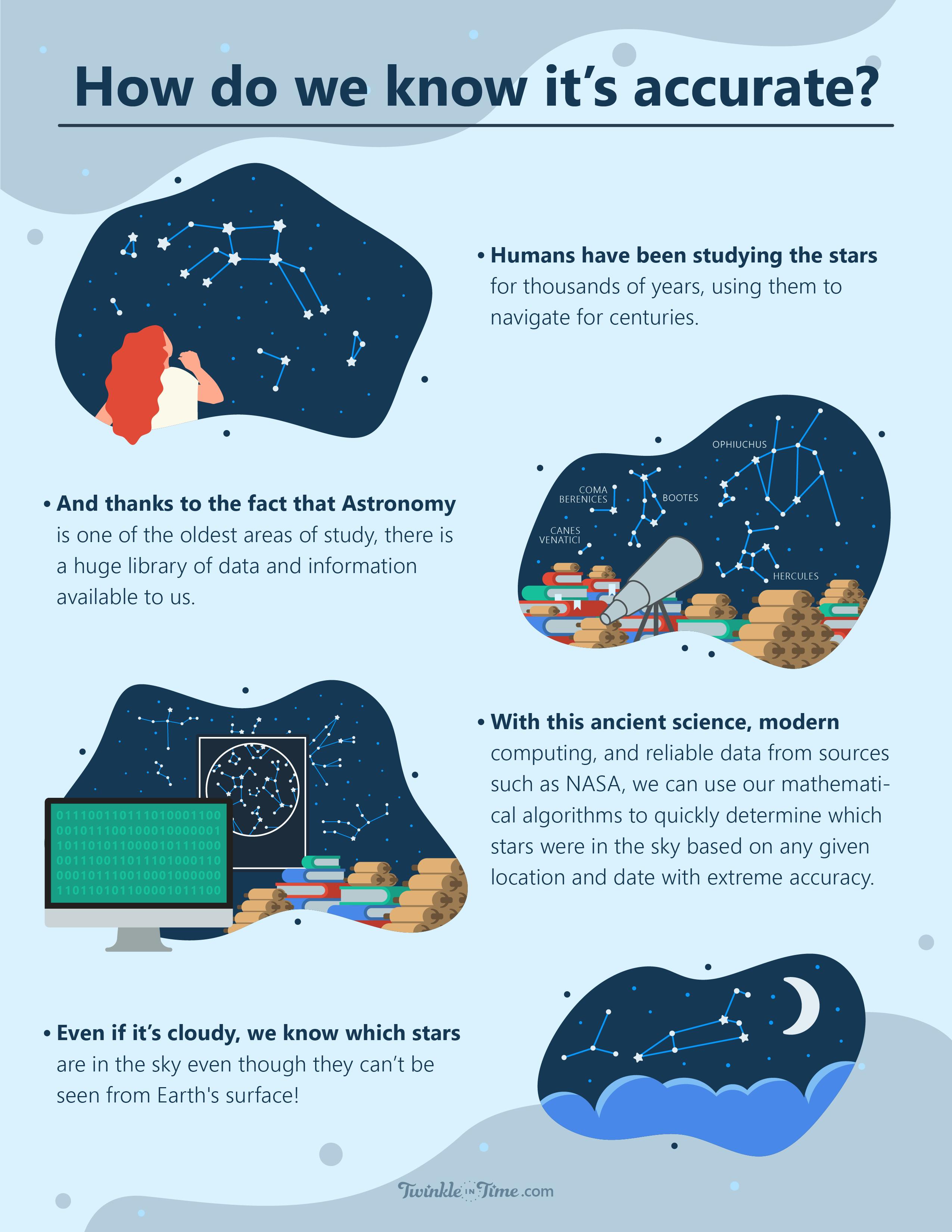 The earliest known record of a star map was a 17,000 year-old cave painting that was found in modern day France.
Astronomers were able to recognize the pattern as that of the constellation that we refer to today as Taurus, the Bull. The Babylonians documented the movements of the Sun, the moon and the stars as early as 1800 BCE, as did other ancient civilizations in Greece, India, China, Meso-America, and Egypt. 
The point is that astronomy is one of the sciences that we have the most historical records of.
Another important point is that even without the modern technology that we use here at Twinkle In Time, those civilizations all found that the movement of the stars was a pattern that they could predict with great accuracy. 
Today, with an abundance of data, mathematical algorithms, and modern computing power we are able to determine what the stars look like and create a custom star map for any location on Earth, at any time, past, present, or future with even greater accuracy than these ancient civilizations.
Even if it is a cloudy night, or you live in a major city with lots of lights that make some stars harder to see, Twinkle In Time can still create a map of the stars that were in the sky that evening, even if they weren't actually visible that night.
So even if you're not an Astrophysicist, still know that the science is there to verify the accuracy of all of Twinkle In Time's custom Star Maps, no matter the season, weather, time, or place that you want to celebrate and remember.